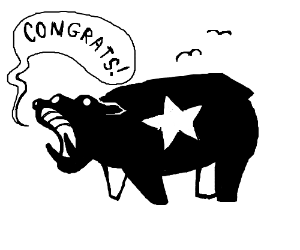 Hippostar is a meme character and fictitious player in Drawception. It is depicted as a hippopotamus with a clearly visible star. Hippostar gave rise to Sheriff Hippo.
Hippostar was created by Scribbletard as a way to criticize games that are used by Drawception veterans for their personal satisfaction, either by drawing, captioning or otherwise including each others avatars in games, or by congratulating themselves on unofficial achievements like Hippostar's own fictitious "400th drawing" milestone.
Games featuring Hippostar
Edit
Ad blocker interference detected!
Wikia is a free-to-use site that makes money from advertising. We have a modified experience for viewers using ad blockers

Wikia is not accessible if you've made further modifications. Remove the custom ad blocker rule(s) and the page will load as expected.